Glendale Mixed Use Development
Glendale Mixed Use Development, Front Elevation


Architectural Design
Project Development
Interiors & Branding
Construction Management

︎

A synthesis of Stayner Architects recent work and research on

Food Systems

, 1506 Glendale takes on the challenges of the small-scale Restaurant/Office building typology found throughout manyLos Angeles Neighborhoods.

Located in Echo Park, the project puts forth an alternative to the larger scale development putting emphasis on building local character with thoughtful spaces through food.


︎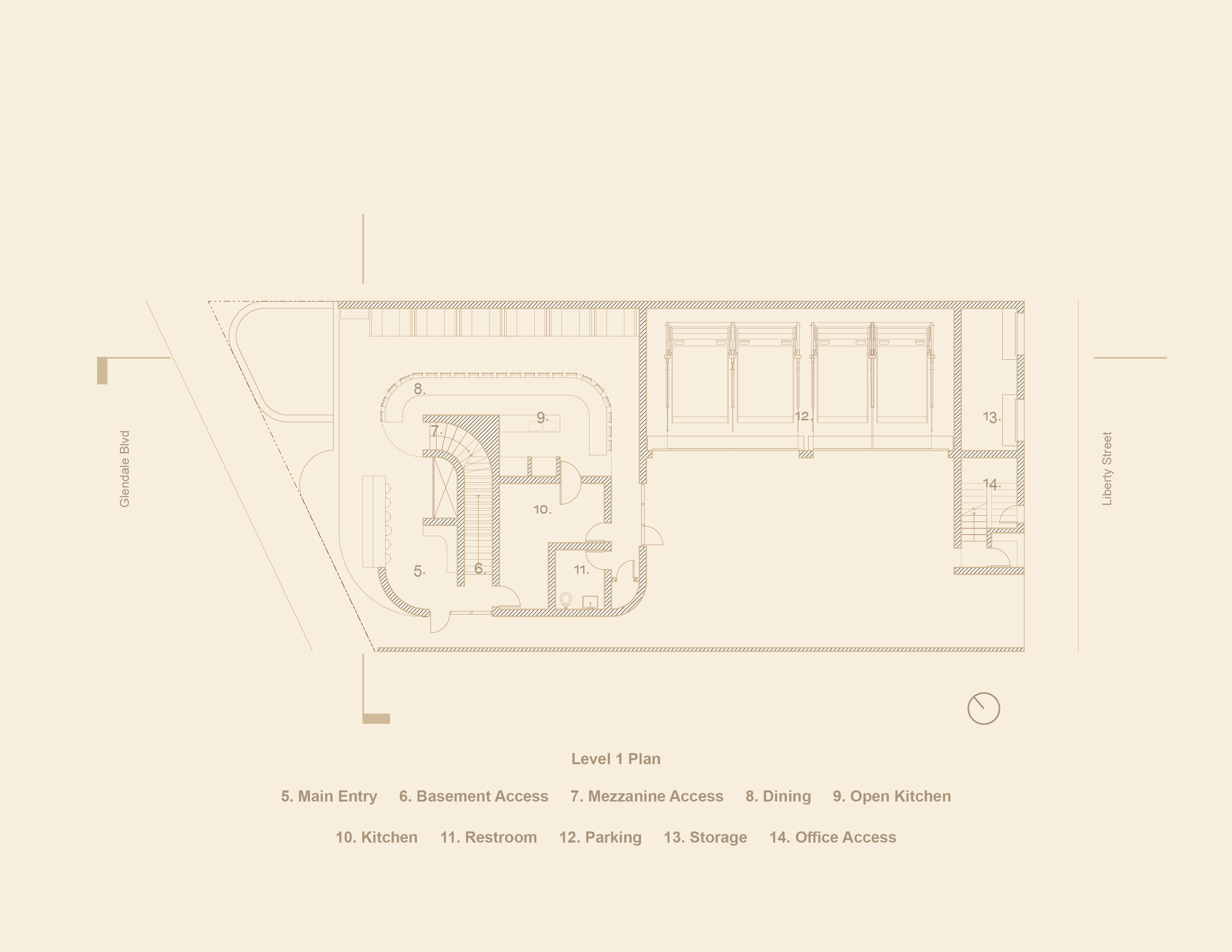 Floor Plans

︎



The project is built upon the idea of the Chimney as a functional object, By scaling the chimney up to a large object, the project begins to attach a variety of new uses and functions to the chimney core. This includes kitchen spaces, counter style seating, restrooms, dining spaces, stairs, structure and mechanical systems that "plug into" the large chimney.

The resulting object is nested between a street-level basement and punctures through the large south sloping roof fitted with solar panels that support the restaurant's energy needs.
Using a large chimney like object, the project is a fresh contrast to a traditional slab and column stacking model, allowing for an array of sectional possibilities.
Sections



The exterior wall system adopts the Exterior Insulation and Finish Systems (EIFS), in which stucco is layered over continuous exterior foam insulation. Typically used for planned unit development tract homes, the EIFS is made massive and textural to increase the west+south-facing insulation value. Additionally, the use of foam co-opts the techniques of stereotomic foam sculpting widely used in Los Angeles movie production. By placing the insulation on the exterior of the wall the foam is shaped into an undulating fluted profile that wraps around the building increasing R-value and resisting the flow of heat to the interior.




Three different dining areas all plug into the chimney core: - At the basement level, with an entrance off the less-than-scenic Glendale Boulevard thoroughfare, a small quick-serve restaurant makes itself accessible to pedestrians and commuters, providing an affordable option different to the McDonalds, KFC, and other chain restaurants that line the street.



︎


Basement Level Illustration - Cafe

︎


Mezzanine & 1st Floor Illustrations, Restaurant



An interior stairway embedded in the chimney connects to the main dining and restaurantThis, which wraps itself around the Chimney with counter seating where you can watch the kitchen at work. Between the main dining area and the office space above, the intermediate Mezzanine takes visitors to a quieter, more intimate space to enjoy small bites and drinks. Lastly, the office space kitchenette above hinges on the Chimney,further negotiatingthe threshold between food and work.

Negotiating between various different restaurant models at all levels of affordability and environmental building methods and technologies Glendale Blvd seeks to integrate itself as a neighborhood staple.



︎


2nd Floor Illustration, Office


Project Team
Steve Martinez, Christian Stayner


︎